The death toll in Gaza has shot up since Israel launched its ground assault on Thursday, with at least 565 Palestinians and 25 Israeli soldiers now reported dead. Yesterday's Israeli assault on the suburb of Shujaeya killed at least 72 people, most of whom were women, children, and old men, and so they were probably among the civilian population that Israel claims it doesn't want to kill. But the funny thing about claiming that you want to minimize civilian casualties is that sometimes your choice of weapon really gives away the game. The Palestinian Center for Human Rights has found evidence that the IDF is using flechette shells in its attack on Gaza, and the IDF has not disputed it. These are not the kind of weapons you use against a densely populated urban area when you're trying to minimize civilian casualties.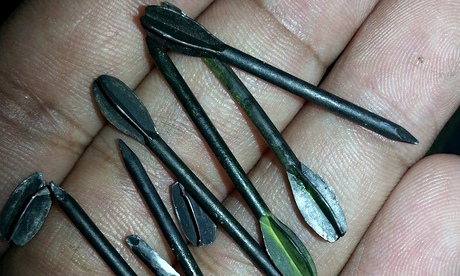 Flechette shells are designed to explode in midair and spray small metal darts out over a wide area. They are indiscriminate anti-personnel weapons designed for use against massed formations of infantry, and when you shoot them at a city full of people, most of whom are innocent civilians rather than the terrorists you claim to be targeting, chances are you're going to hit a lot more civilians than terrorists.
Israel's stated mission in Gaza has crept from retaliating for the murder of the three Jewish teenagers in Hebron to retaliating for Hamas rocket attacks to closing down the massive network of tunnels that Hamas has dug under Gaza, though their actual mission, breaking up the Palestinian unity government, has remained unchanged. Meanwhile, 3600 Gazans have been wounded and 85,000 are now displaced in addition to the 570 who have been killed. "Diplomacy," which when it involves the Palestinians means "a bunch of people talking to everybody except the Palestinians about how to get the Palestinians to stop fighting," is ongoing. John Kerry is in Cairo talking to…somebody, the Egyptians I guess despite the fact that Hamas and Egypt don't like each other that way anymore. Ban Ki-Moon is traveling around the Middle East, also talking to people who aren't Palestinian. Nobody seems to be spending any time convincing the Israeli government that it's, well, doing exactly what Hamas wants it to do and killing a whole bunch of innocent people while doing it.
But the IDF is trying real hard not to kill those innocent people, don't you know. Just ask them. But try not to be anywhere near an exploding flechette shell when you do. I think I'm in agreement with Ed from Gin and Tacos; if you're really convinced of the righteousness of your cause, then you don't need to pay hours of lip service to how much you care about protecting civilians, or to how your opponent is callously using people as human shields by, um, having them stay in their own homes, or to play logic games to redefine people as terrorists until proven innocent. If your cause can't justify the inevitable loss of civilian life, then maybe it's not a cause worth going to war over.
For the Palestinians, of course, beatings will continue until morale improves. If you're of a mind and a situation where you'd consider giving to help alleviate the situation, the blog Qifa Nabki (a great read in general, especially if you're interested in Lebanon) has a list of charities.